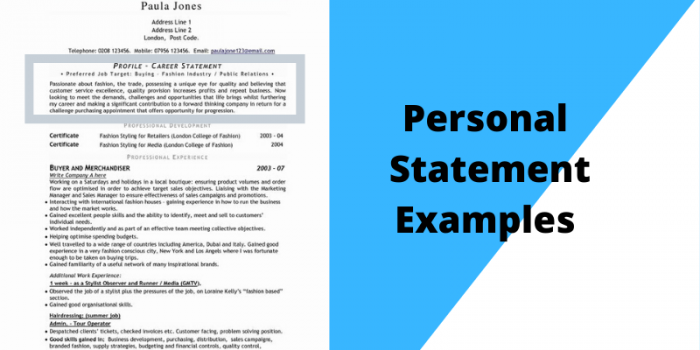 Is the personal statement written on your CV the right one?
Many job applicants know what a personal statement is, and may have even known its importance on their CV, yet not all of them know how to write a good job personal statement that fits their profession correctly. Candidates like this, end up missing some key information which their CV should specifically contain as a result.
Before we continue, I want to encourage you to check out our guide on how to write a personal statement.
A personal statement may be an important part of your CV, but for it to hold a recruiter's attention, it has to be written in a way that is good enough to sell you as the best candidate, for the job role advertised.  This is why, while you are writing a personal statement for jobs, make sure that it is addressed to the right type of recruiter and that it also reflects your current professional status and qualifications.  
Confused as to how to go about it? Don't worry, see the personal statement examples for jobs below:
 
Personal Statement Examples:
Here are some common personal statement examples:
School leaver  personal statement

College student/undergraduate personal statement 

Graduate/college leaver personal statement

Academic personal statement

Career change personal statement 

Career break personal statement 

Unemployment/ redundancy personal statement
School Leaver Personal Statement
The school leaver personal statement is best for you if you are just leaving high school and have not had any prior working experience or either has some part-time experience.
If you have not worked before, when writing a school leaver personal statement, focus on why you want to work in that industry, the skills and educational qualifications (a subject you majored in) or achievements that make right for the position.
If you have part-time working experience, mention that in the personal statement, including skills and academic achievement and qualifications.
Example: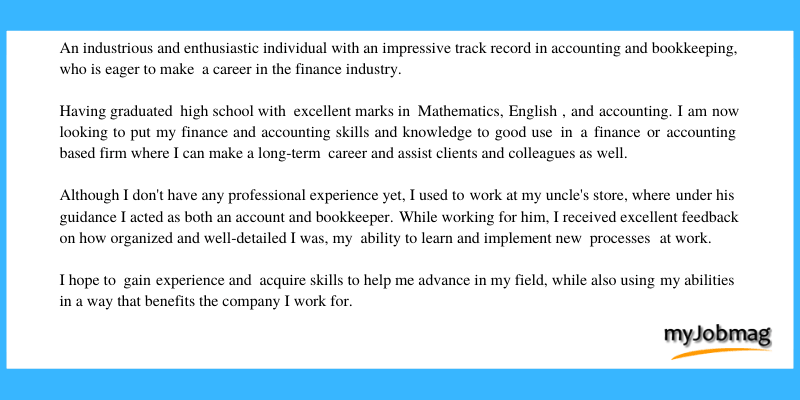 Undergraduate/College Student Personal Statement
College students who are writing a personal statement should do it in a way that it shows the recruiter that they are capable of juggling work and studies without both clashing. This is where any prior experience you've had working part-time or freelance while still attending classes, comes in handy.
Factor in that you are still a student studying to acquire a degree related to that industry, show-off (slightly) the qualities and skills that make you perfect for the job and back up your statement with hard evidence (instances) to prove that you can indeed handle work and studies like a boss.
Example:
Graduate/College Leaver Personal Statement 
The graduate personal statement is also for both students who have had some work experience and those who don't have.
While writing your personal statement as a graduate with no experience, mention why you would like to go into that career and what you hope to achieve by working in that industry. 
Be sure to center it around a bit about your degree, the specific things you learned in school and activities which you participated in, in the university or college that prepared you for that job role or piqued your interest in it. Also, add in relevant work experience, full or part-time or even internship or volunteer experience if you have any.
Example:
Academic Personal Statement
An academic personal statement is reserved for professors who have had years of experience in the education industry. Mostly senior colleagues use this personal statement.
Academic personal statements usually summarize what subject you specialized in teaching, how many years of experience, research participated in, positions you have held in universities or colleges, written works you have published and the degrees in your subject of study you have bagged (PhD or Masters).
Example:
Career Change Personal Statement
Want to make a career change? Here is how you go about it.
When changing industries completely, consider any of your transferrable skills (leadership, time management, prioritisation, delegation, listening, communication, research, and analysis) from your old job that can be relevant to the new industry you are breaking into. Don't just use words, give examples of putting these skills to use.
You'll want to prove that you can handle the new industry with your prior experience, so any numbers or instances you can give documenting your success rate is good. Focus on achievements and the value they added at your previous job.
Example:
Career Break Personal Statement
Usually, most recruiters see year gaps in employment on a candidate's CV as a red flag and may rethink hiring someone who has been out of work for a long time. 
If you have gone on a hiatus and is just returning to the corporate world, it is advisable that you explain on your personal statement why you took a career break. Is it because of studies? Raising a family? Traveled? An illness? Whatever be the reason, let the prospective employer know.
Just briefly explain it in the statement and then discuss it in length on your cover letter, but don't share personal details that an employer shouldn't really be knowing about, keep it professional.
Oh! If there is a skill you learned during your break which is relevant to your career field write it in your personal statement as well, it helps.
Example:
Unemployment/Redundancy Personal Statement
Going back to work after being employed for a long time, or getting laid off work, doesn't have to be hard if you handle it the right way. If you do, then it won't be a hindrance to your application. So, what do you do?
Focus more on your employment history and then explain why you have been out of work in your cover letter. You could take a cue from the Career-Break personal statement on how to do that.
The aim of your personal statement is for you to sell yourself, so focus more on the positive aspects of you, rather than apologise for the negative aspects.
Example:
Writing a personal statement is a good addition to your CV, but while writing, make sure that it suits your job role perfectly and it also highlights key areas of your profession that make you the right candidate for the role.
Check out the next part.
CV Personal Statement Examples
Below are some CV personal statement samples that are specific to certain jobs, which you can look at to learn how to make your CV stand out, depending on your field of work:
Sales Manager CV Personal Statement Example
'A hardworking,  knowledgeable and target-focused Sales Manager with a substantial sales record'.
I build and maintain a loyal database of clients through strong relationship-building skills, and excel at thinking up the best approaches and strategies for increasing sales. 
With 3 years of Sales experience, I am quite skilled in identifying and converting a potential sales lead, bringing out the best in staff, and can effectively recruit and manage talent. Resilient and determined to thrive, I would make a wonderful addition to a progressive company.
Note: The candidate has already listed out and summarized her skills, experiences, and attributes so that the employer can see all the reasons why she is right for the job at a glance.
Due to her impressive skill set, the employer will be compelled to scroll down her CV to see the rest of her qualifications. Another thing to note is that she sounds confident.
Accountant CV Personal Statement Example
'An experienced Accountant with a First Class Distinction in Finance and Accounting from Oxford University and 10 years experience in financial reporting'.
SAAA registered, with extensive knowledge of all aspects of financial accounting and all major accounting systems. I am focused, flexible and maintains a poised and professional demeanor even when working under pressure. In my past role, I handled a large number of clients' budgets and cash flow and provided financial analysis and reports.
I look forward to putting my skills and knowledge to good use in a forward-thinking company where I can add value and also gain experiences that will help me advance further in my career.
Note: This candidate's personal statement is armed with an astounding academic result in the field he is applying for, his years of experience and he also chipped in the fact that he is registered to a recognized accounting body, thereby giving him credibility.
Website Developer Personal Statement Example
'Experienced and creative Web Developer with 9 years of experience working on a number of different projects'.
A rational approach to problem-solving and a passion for innovative ideas that lead to the development of impressive website solutions. Possesses the technical know-how, and is industry aware, and knows that projects should be executed perfectly, delivered in a timely manner and more importantly that effective communication between client and developer is of the utmost importance.
Uses the latest and most relevant tools and codes to develop client websites and convey ideas clearly with an emphasis on client satisfaction.
Note: Being a Web Developer sometimes means that you would have to work remotely.  However, working remotely isn't an option most employers are keen on, so if you want to get such an opportunity, your CV personal statement should reflect that you know and understand that the rules of engagement.
The candidate pointed out that he understands that projects should be delivered in a timely manner,  effective communication should be maintained by both client and developer, and he also stated that he is informed about the latest technologies and trends.
A good personal statement goes hand in hand with a good CV. Learn how to write one here: How To Write A Winning CV